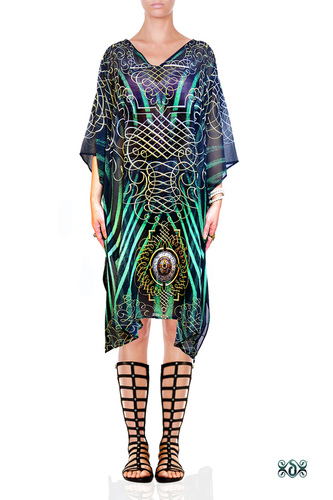 Animal Print Embellished Ladies Kaftan Tunic Tops Dress Beachwear Poncho
Product Code : DEVKFT 1036 D
Product Description
This Design is from the collection called "NATURE MORTE", inspired by world of Natural beauty we see all around us.
As it was the Flower power in the 1960s & it is the Animal power revolution in the 21st century.
These Kaftans are trendy, Comfortable and Suit all ages, Cultures and Body shapes and they come adorned with Crystals.
- Length: 36 " Inches

- Size: Free Size
Sizes and Measurement will be made on order as required.
Digitally printed on Premium fabrics like Georgette, Crepe, Cotton, Satin, Chiffon, Silk, etc,. on order.
MOQ :: 50 Pieces ( Assorted designs)
Please send us inquiry mail for more information.