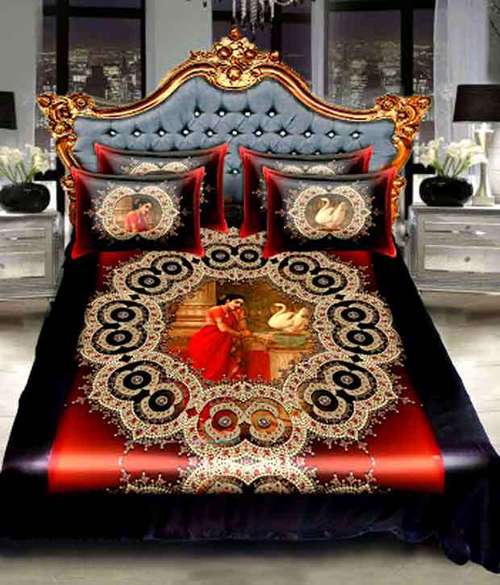 Digital Print 3 piece Bedsheet Set. Hans Damyanti
Product Code : DEVBDS 1002 B
Product Description
Digital Print 3 piece Bedsheet Set. Hans Damyanti

Full Digital print Bedsheet set with two pillows.
Hans Damyanti painting by Raja Ravi Varma.

A stunning Example Of Pure Exotic Indian Culture and aesthetic sense captured in this 3 piece Bedsheet Set.
FULLY DIGITALLY PRINTED under the highest standards of Design and Technical Quality,

This Piece is set to STAND OUT from the crowd of regular mundane screen printed BUdsheet sets

Perfect for a special Occasion , this extremely soft feel Bedsheet set is made from Cotton Blend and is also available in Jaquards for that extra punch !

Go, Indulge in LUXURY !

3 Color Options available in this design....
Black-Red.
Red-Black
Yellow-Red.

Bed sheet size :: 102 X 108 Inches. KING Size.
Pillows :: 20 x 30 Inches.
You may Order different sizes if you please ... Other Sizes Manufactured on Order.

Based on Famous Painting HANS DAMYANTI by Master Indian Artist from 19th century, Raja Ravi Varma.
Please call us or WhatsApp! or leave an Inquiry here for other details.