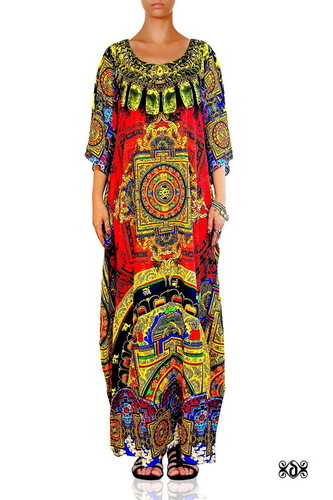 Digital print Embellished Devarshy Luxury Kaftan
Product Code : DEVKFT 1065D
Product Description
DEVARSHY Latest Design from the collection called LOGIN EXPIRED :: NIRVANA ACHIEVED", inspired by the Tibetan THANGKA paintings.
The literal translation of the Tibetan word THANGKA means 'recorded message'. It is a medium through which the Buddhist philosophy can be explained.
These Kaftans are trendy, Comfortable and Suit all ages, Cultures and Body shapes and they come adorned with Swarovski Crystals.
At Devarshy, we believe in making our prints life like, colorful and sharp, with Hundreds of Designs to choose from, we give you an almost limitless Spectrum of themes.
Length:: 55 - 58" Inches
Size: Free Size
All Sizes and Measurements can be made on order.
They are Digitally printed on Premium fabrics like Georgette, Crepe, Cotton, Satin , Chiffon, Silk, etc,. as per the order.
Moq :: 50 Pieces ( Assorted Unlimited Designs)
Please send us inquiry mail for more information.