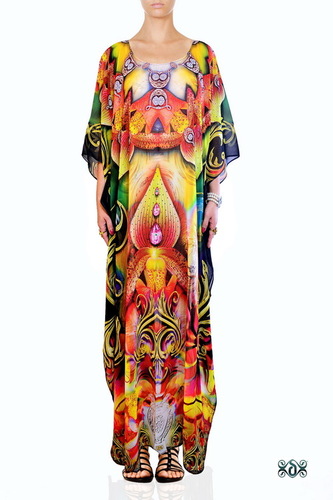 Digital Print Luxurious Long Ladies Kaftan
Product Code : DEVKFT 1102 B
Product Description
Devarshy Digital Print Kaftan comes alive in this collection called ''ORCHIDAE::DYNAMICATUM'' with the dynamic beauty of the wildflowers commonly known as 'Orchid'.
With their delicate, sculptural beauty and historical rarity, orchids carry an unrivaled suggestion of refinement.
At Devarshy, we believe in making our prints life like, colorful and sharp, with more than Hundreds of Designs to choose from, we give you an almost limitless Spectrum of themes.
Length: 57 " Inches
Size: Free Size
Any Sizes and Measurement can be made on order.
They are Digitally printed on Premium fabrics like Georgette, Crepe, Cotton, Satin , Chiffon, Silk, etc,. as per the order.
Moq :: 50 Pieces ( Assorted Unlimited Designs)
Please send us inquiry mail for more information.