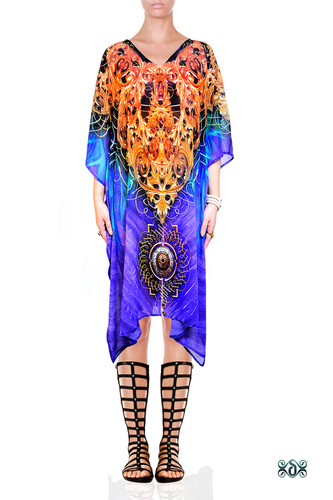 Feather Design Embellished Short Kaftan
Product Code : DEVKFT 1037 B
Product Description
DEVARSHY Digital print Peacock Kaftan from the collection called "NATURE MORTE", inspired by world of Natural beauty we see all around us.
This design is an inspiration from one of the most Beautiful feathers.

These Kaftans are trendy, Comfortable and Suit all ages, Cultures and Body shapes and they come adorned with Swarovski Crystals.

Length: 37" Inches

Size: Free Size

All Sizes and Measurement can be made on order.

They are Digitally printed on Premium fabrics like Georgette, Crepe, Cotton, Satin , Chiffon, Silk, etc,. as per the order.

MOQ :: 50 Pieces ( Assorted designs)

For more information, please send us an inquiry.