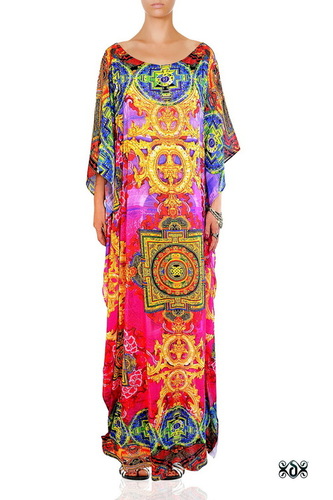 Tibetan Design Embellished Designer Kaftan
Product Code : DEVKFT 1066A
Product Description
This Latest Design from DEVARSHY is from the collection called LOGIN EXPIRED :: NIRVANA ACHIEVED", inspired by the Tibetan THANGKA paintings.
The literal translation of the Tibetan word THANGKA means 'recorded message'. It is a medium through which the Buddhist philosophy can be explained.
At DEVARSHY, we believe in making our prints life like, colorful and sharp, we give you an almost limitless spectrum of themes.
This Kaftan is digitally printed on a soft Georgette and adorned with Superior Quality Crystals.
Length :: 57" Inches
Chest Size :: Free size
Any sizes and Measurement can be made on order.
Digitally printed on Premium fabrics such as Georgette, Crepe, Cotton, Satin, Chiffon, Silk, etc,. on order.
MOQ :: 50 Pieces ( Assorted designs)
Please send us an inquiry for more information.